We've recently installed a 3CX system where the phones are Fanvil and the door intercoms are Grandstream. Maybe this is just balancing the one from last year with Grandstream phones and a Fanvil PA2 to control the door…
3CX doesn't have any native way to control these relays. so for the Fanvil phones you have to log into each phone and set up a key to do it.
Fanvil
In this example, the Grandstream GDS3710 intercom requires a DTMF code to open the door strike. So we log into the phone (a Fanvil X7) and set it up like this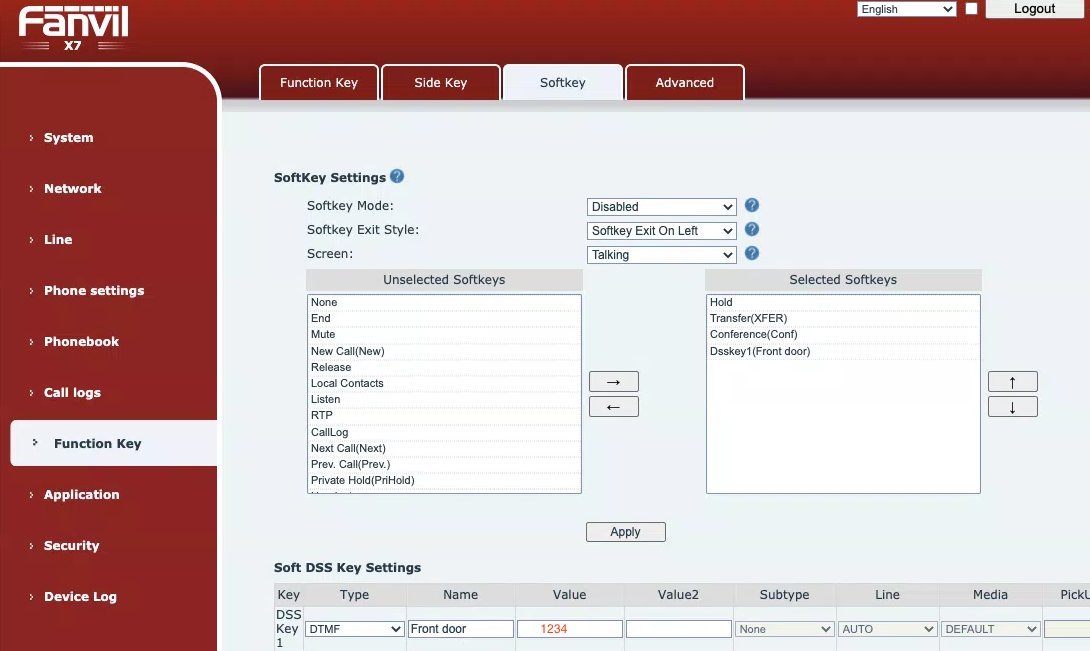 Here's the full explanation-
Soft DSS Key Settings (bottom)
We've set 'DSS Key 1' to 'DTMF'
The button will have a label of 'Front door'
The DTMF will create tones for the code '1234'
*Then you've got to save this so it will appear in the list of 'Unselected Softkeys' (can't see the 'Apply' in this pic)
Screen
We want the button to appear in 2 contexts- when the person is talking, and also when the phone is ringing- in case you recognise the person and want to let them in without picking up the handset. So to set up the first context, set it to 'Talking' (it's set to 'Talking' in the pic)
Selected Softkeys
There's already 4 soft keys in there, and you can have a maximum of 4. So delete one that you won't use, using the arrow keys in the middle of the screen. Then add in the one from the left hand side marked 'Dsskey1(Front door)'. Repeat this for the other context. Hit 'Apply'
That's it- you've created the key, added the customisation needed and assigned it to show up when needed.
Grandstream
Interestingly Grandstream have a special section for these things called 'special feature'
Here's a pic-